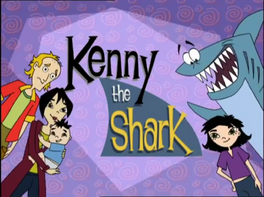 Kenny the Shark is an American animated television series hat is created by Jack Huber for Discovery Kids. It is produced primarily by Discovery Kids.
Main article: Season One and Season Two
Main article: Opening Theme
Animation of Kenny the SharkEdit
International
Edit
Censorship
Edit
Main article: Censorship of Kenny the Shark
Broadcast
Edit
The series formerly aired Discovery Kids/The Hub. It also aired reruns on the American Spanish network, Azteca America, from December 1, 2013 to June 1, 2014.
It is now on Discovery Family On Demand.
External links
Edit
Ad blocker interference detected!
Wikia is a free-to-use site that makes money from advertising. We have a modified experience for viewers using ad blockers

Wikia is not accessible if you've made further modifications. Remove the custom ad blocker rule(s) and the page will load as expected.