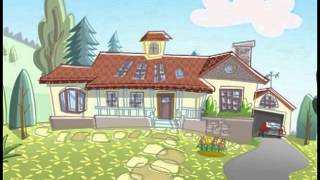 The House is the home of residence of the family.
It has a pool and many rooms.
The House has been the backdrop for many of Kenny's adventures. 
It played a vital role in the episode "Nobody Move", when the parents tried to sell it. But Kenny and Kat did all they could to prevent Mrs. Pasturnack from getting a buyer. In the end, they succed, mostly because the kids were born and raised in The House, so it had quite a place in their lives. 
Ad blocker interference detected!
Wikia is a free-to-use site that makes money from advertising. We have a modified experience for viewers using ad blockers

Wikia is not accessible if you've made further modifications. Remove the custom ad blocker rule(s) and the page will load as expected.